The event with over 300 delegates (75 of which were youth participants) was held in Fort William on the 1st of November 2023
---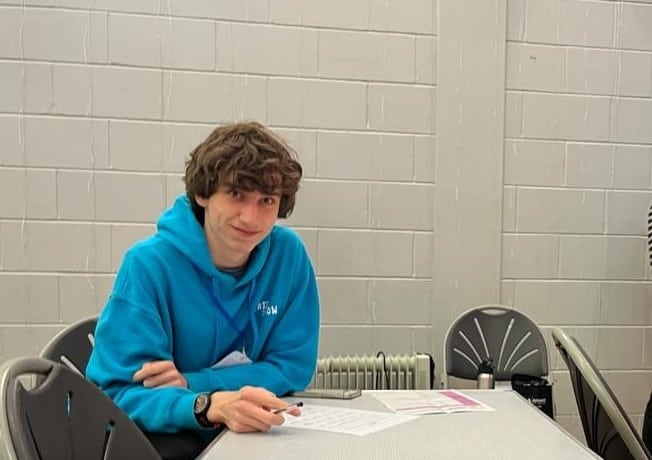 ---
After 2 years of discussion, meetings and the pre-event we represented at last November in Birnham, the first Scottish Rural and Islands Youth Parliament was finally here. Our Young Islanders Rural and Islands youth voice representative, Matthew was in attendance after a long journey from Tiree. We were very sorry that depute rep Kaydence had to give apologies and was not able to make it on this occasion. Hopefully next time!
---
After a lunch and welcome reception, we made our way to the nearby Caol community centre for the Youth Parliament. Another impressive community centre, tying in the theme of Community centres and Village Halls. As part of the opening session, we heard from MSP Emma Roddick (who we recently met in Stornoway) and she gave an empowering speech on making change as a young person from the Highlands and the value of youth voice and young people being involved in decision making. Emma was followed by Innes Morgan, who was also a participant in the virtual Rural and Islands parliament in 2021 and has been an integral cog in the wheel of getting this SRIYP in motion who gave the participants an inspirational talk on the context of the day.
The day was jam packed, starting with registration at the impressive Nevis Centre in Fort William. There were many familiar faces scattered around and we quickly found some familiar young faces who have been involved with the YIN, Hector and Vee from Lewis who were representing the Outer Hebrides Local Action Group.
---
---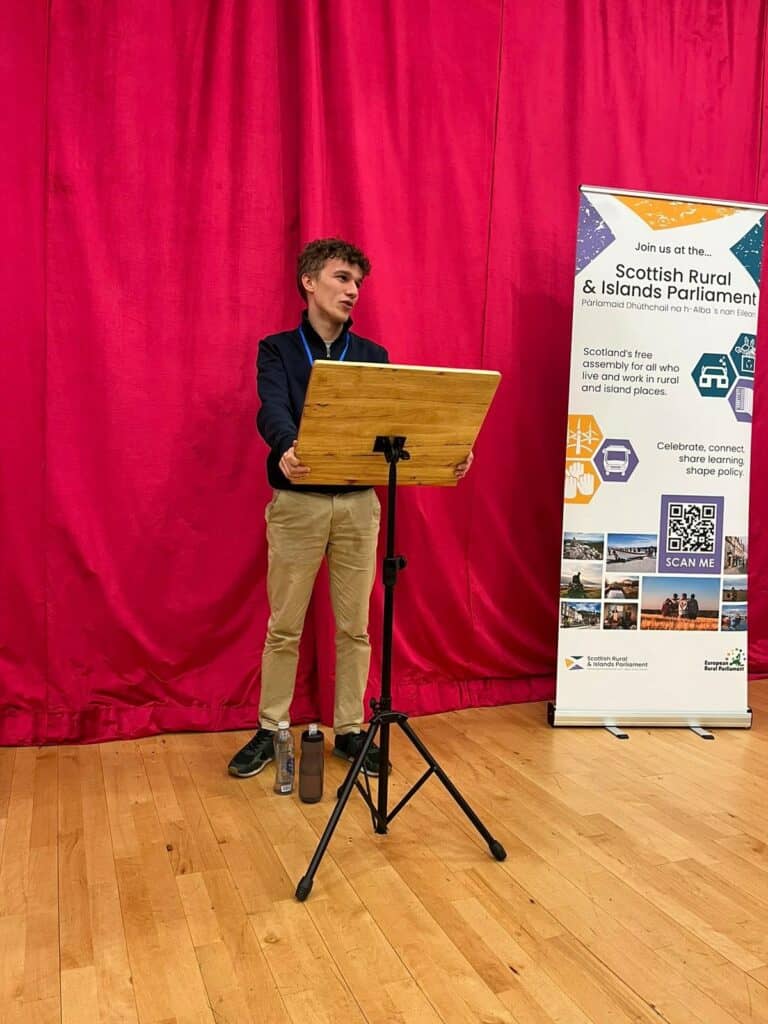 ---
Following on from a great bingo icebreaker (which Naomi won) Delegates were then invited to join 2 different discussion groups from across 10 themes: Housing, Transport, Leadership, engagement & participation, Arts & Culture, Food & agriculture, Environment & Nature Regeneration, Skills, Education & employment, Mental health & wellbeing, and 2 wildcard sessions.
Matthew attended the Transport, Housing and Skills, Education & Employment sessions, choosing to return to Transport for the third to take a deeper dive into the subject.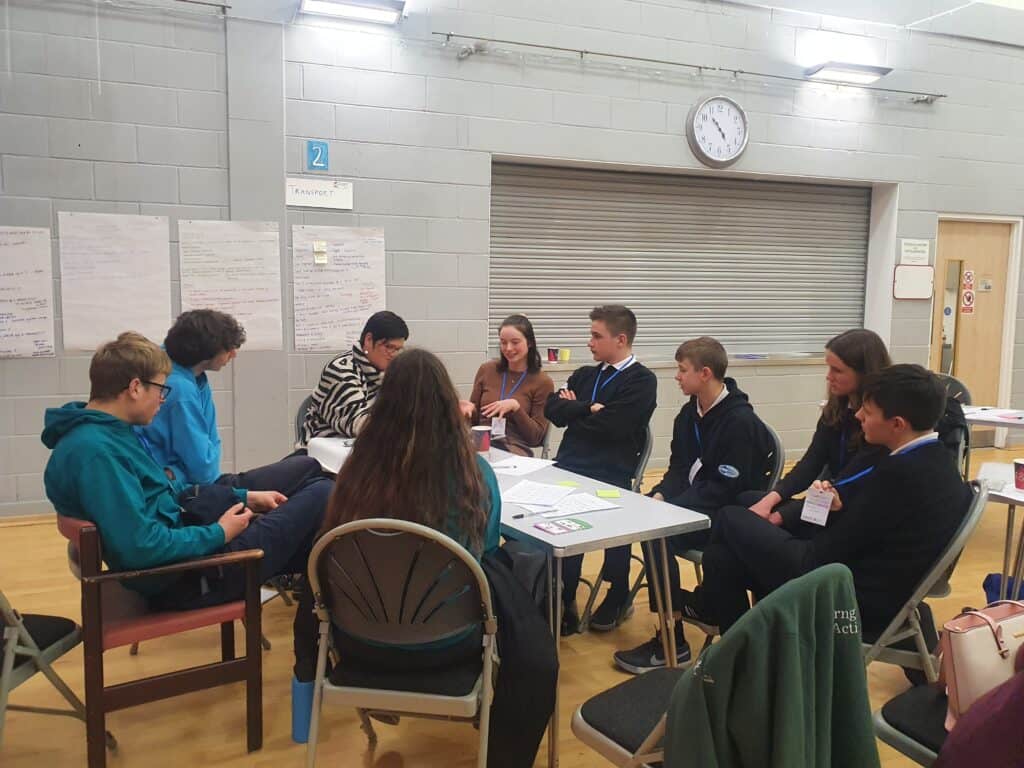 ---
After the three workshops, the delegates were then invited to focus in on the discussions in Solutions Session. It was in these sessions that they needed to drill down some of the prioirties within each theme and then identify some solutions which would contribute to the "Ask" to be presented to Cabinet Secretary for Rural affairs, islands and land reform, Mairi Gougeon later in the afternoon.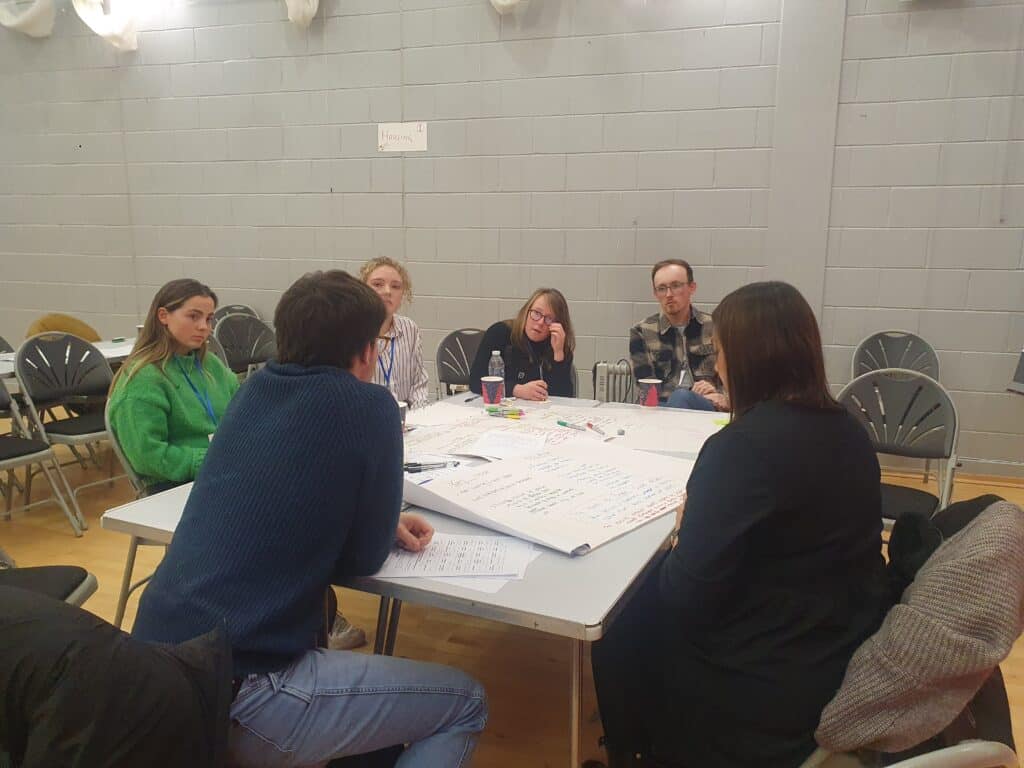 As they day was drawing to a close, the delegates were asked to identify a key ask to be presented to ms Gougeon to take back to the Scottish Government and to then present them on behalf of each topic. Ms Gougeon addressed the delegates warmly, and listened keenly to each ask as it was presented. She then went to each group, discussing how they came to the ask and taking notes and the asks to follow up on with key decision makers.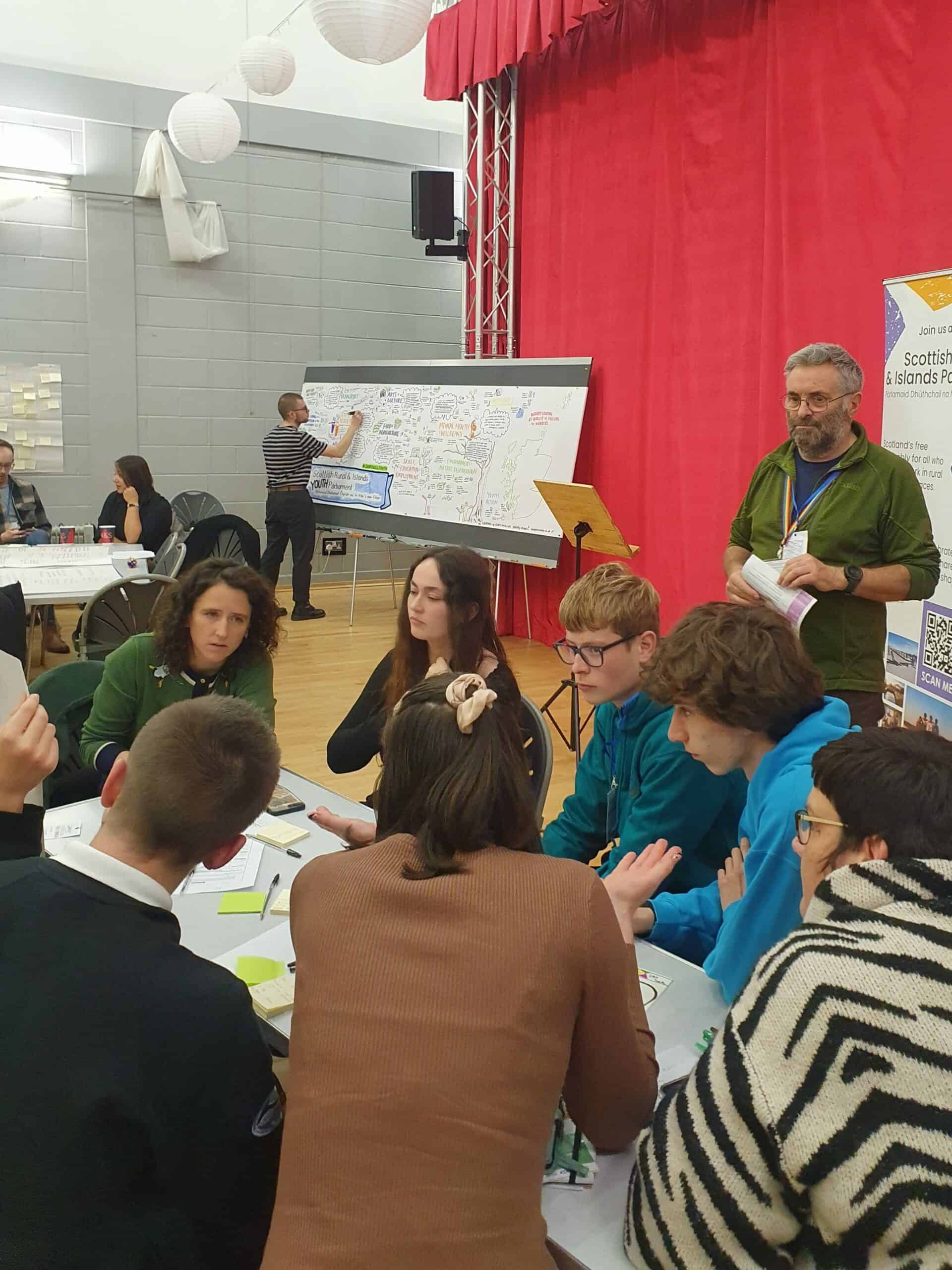 "She asked us Questions, one to one and she listened to all of us."

Matthew on Ms Gougeon at the SRIYP 2023.
Here are some of the asks from the day. The Housing and Transport asks. Do you agree with these? Is there anything different you would have asked? If so, why not let us know at yin@youthscotland.org.uk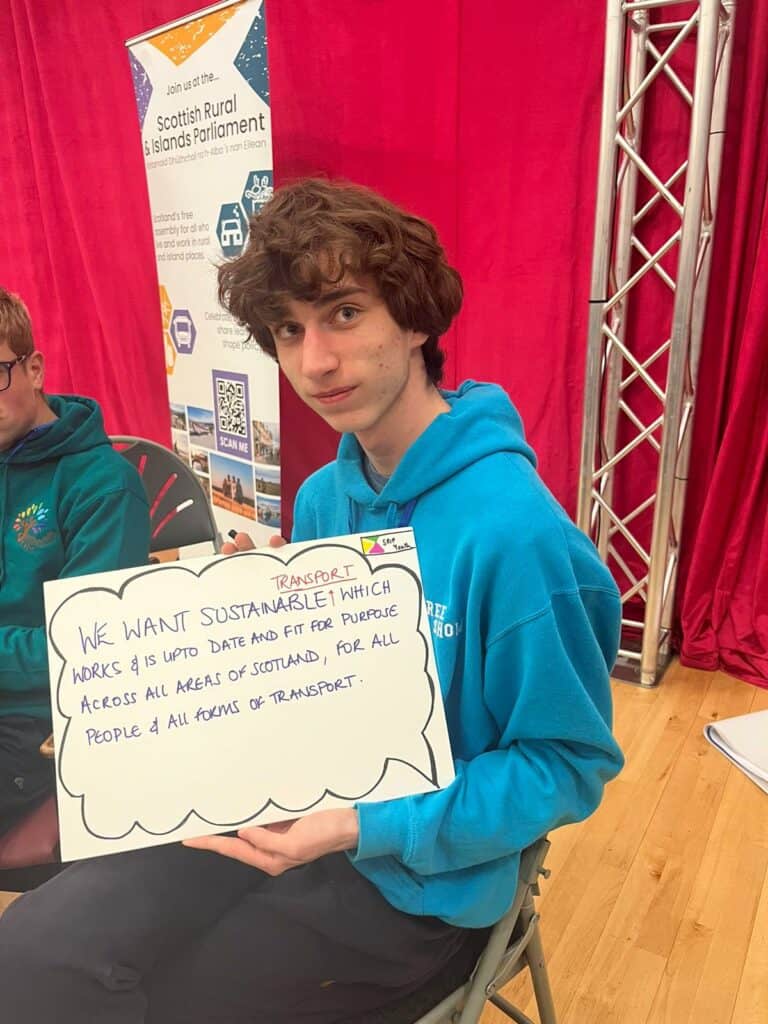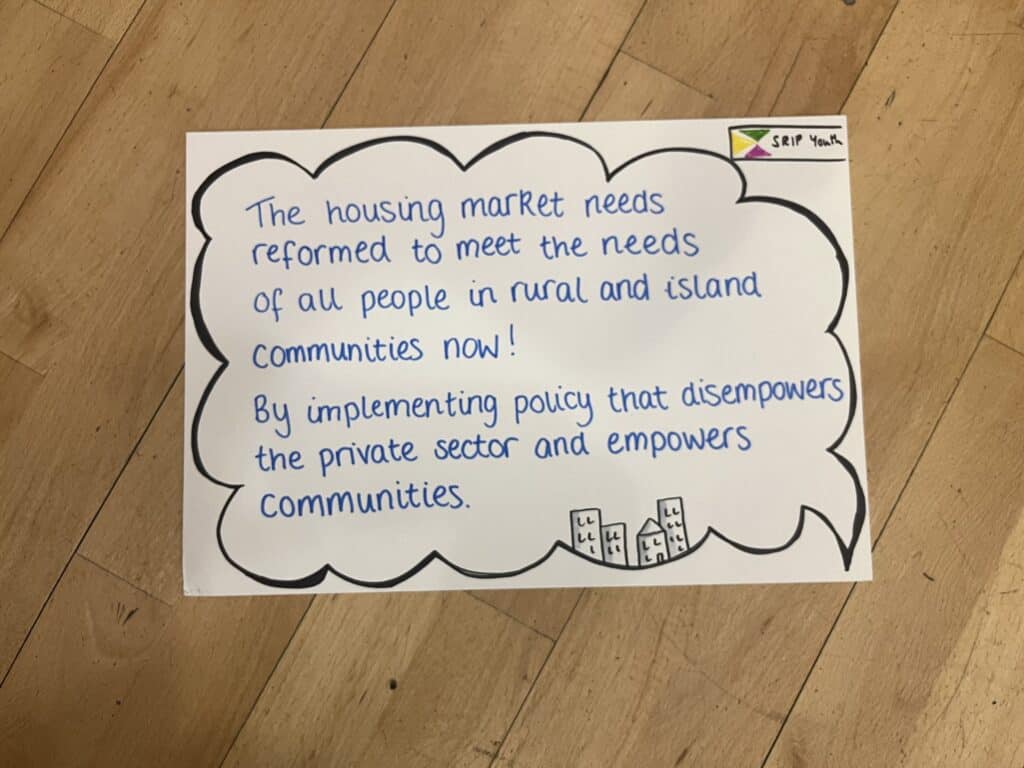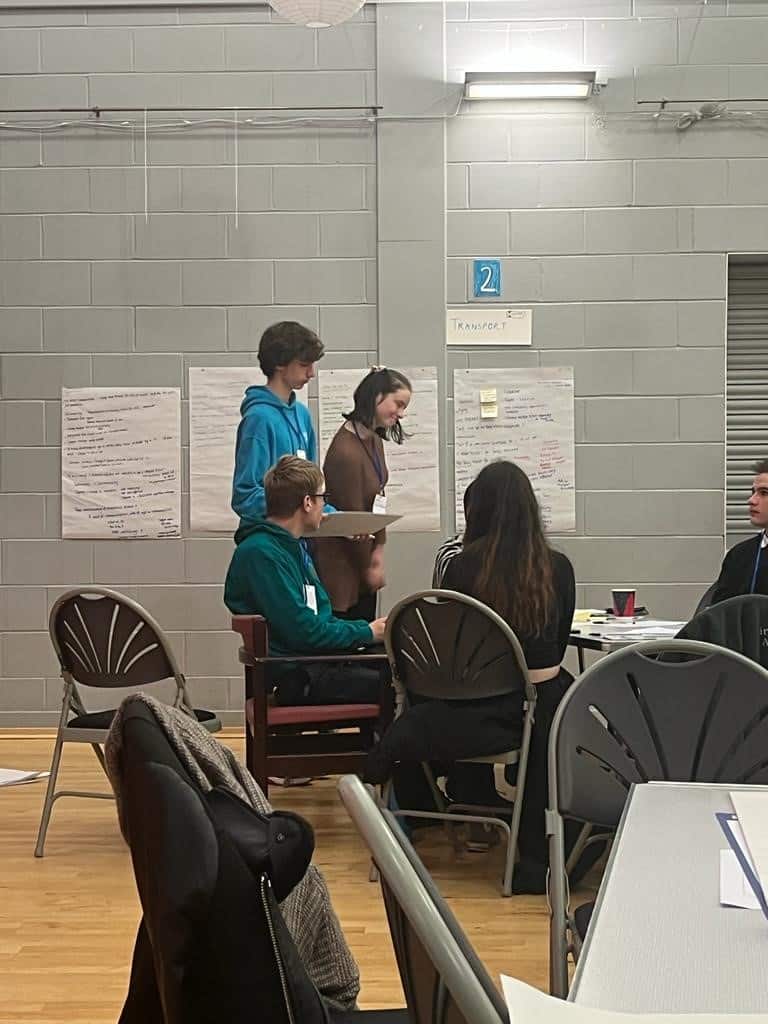 The Youth Parliament closed on Wednesday and the buzz of converstation and collaboration took us across to Highland Cinema where we were treated to a cosy space and some delicious food.
Thursday was another jam packed day for the Rural and Islands Parliament. Starting with allocated study trips. Matthew was on the Population renewal study visit and Naomi went to the Culture study visit.
There were eight study visits, most of which took place in nearby community settings and Jenny Milne from the Scottish rural and islands transport community had organized buses for these visits.
We went to Arkaig community projects north of Fort William and saw the facilities and met with community led organizations while also delving into the themes of the study visits. Naomi also met with fellow islanders, from Skye, from the Atlas Arts team at the culture study visit.
After the study visits, Matthew spent some time networking while Naomi attended an invitation only round table workshop on Researching Communities. This was a follow on from the discussions in Birnham in 2022 and looked at building on the recommendations and priorities from this.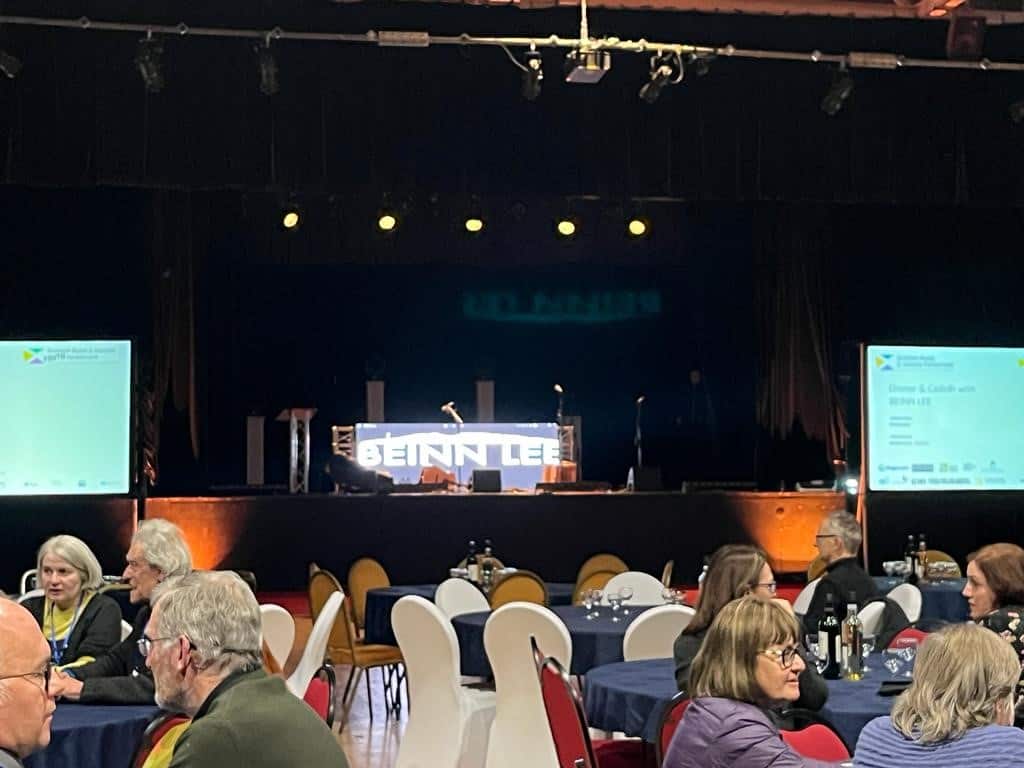 Thursday closed with a great big ceilidh in the Nevis centre, with fantastic music from Beinn Lee Ceildh band, a Uist based six-piece band. It was great to see everyone dancing and chatting in great spirits of community and networking.
Closing the event, Friday morning saw Depute First Minister, Shona Robison delivering as part of the Future Vision Panel. To begin with she heard from the Youth Parliament and the representative read out each of the asks from the day. The depute first minister highlighted some of the upcoming and ongoing inputs from Scottish Government in response to the asks.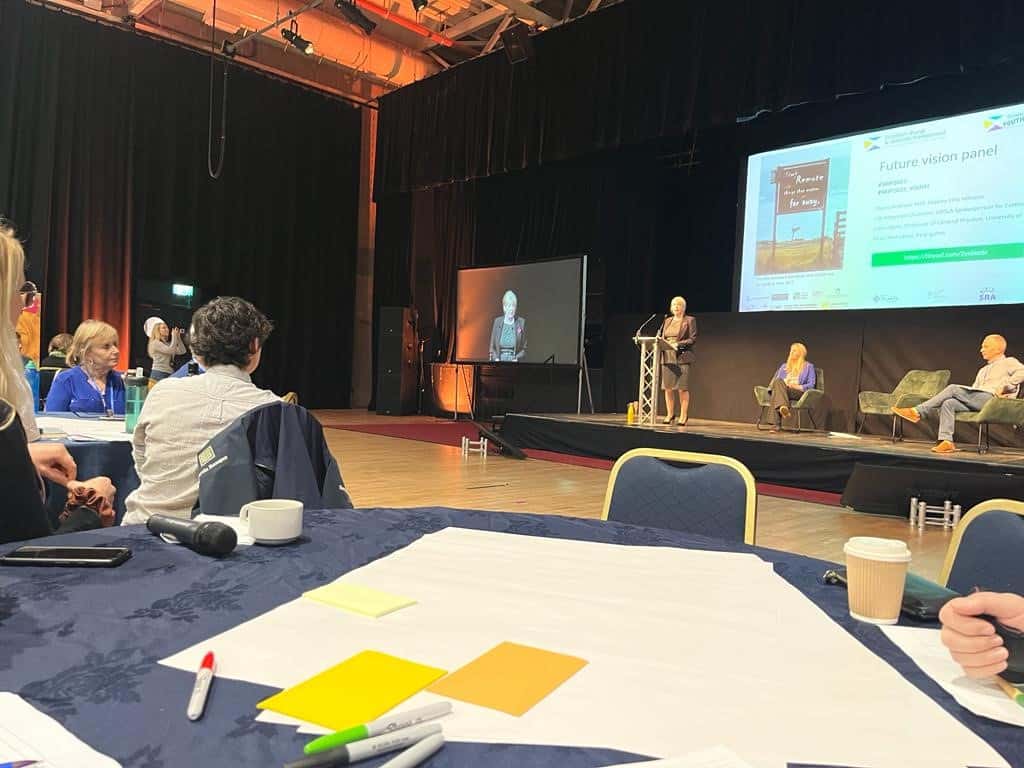 "A powerful list of recommendations. I can give commitment we will take forward recommendations you have and need."

"We do need to act now tio seize economic and community benefits."

Depute First Minister Shona Robison, addressing the SRIP 2023.
Ms Robison's response to housing included a recognition that housing is hugely important for young people to live and work and that there is a a lot still to do. Since 2016, ten thousand affordable homes have been pledged and there is a new initiative of £25million available for the housing supply programme for local authorities to buy affordable homes for keyworkers.
Ms Robison stated that the next moves for the Scottish government are to take forward the Rural Housing Action Plan and recently a debate was held in chambers on this. The Rural Visa pilot is also awaiting a response from Westminster and there is a talent attraction service in development.
"If you want rural communities to continue thriving into the future, you have to listen to us"

Ellie, youth delegate at SRIYP 2023 from Nevis Youth local action group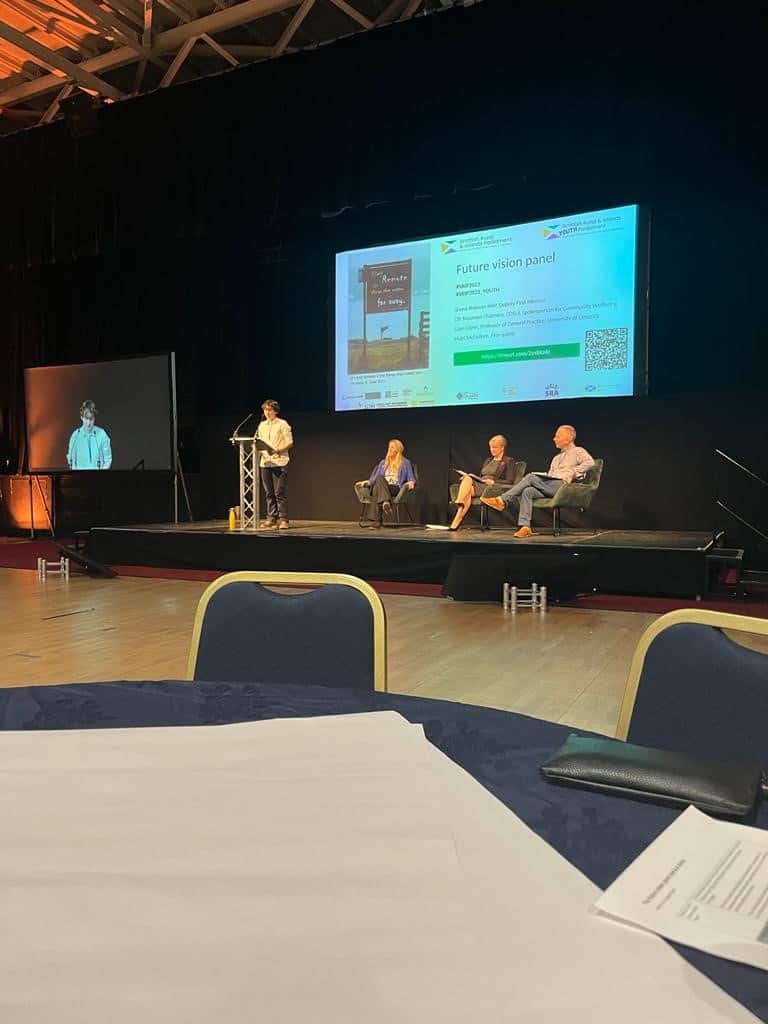 Matthew would agree that this was such a whirlwind few days, with many new ideas, connections and commitments made. It was a great reminder of why it is so important to make sure you have your say, your voices are heard and that decisions made reflect your needs and hopes for your future.
We would love for you all to keep sharing what matters most to you and to take part in our challenges, meetings and events! If you are not already involved and think that this is something you would like to be involved with please let us know by emailing: yin@youthscotland.org.uk for more information.