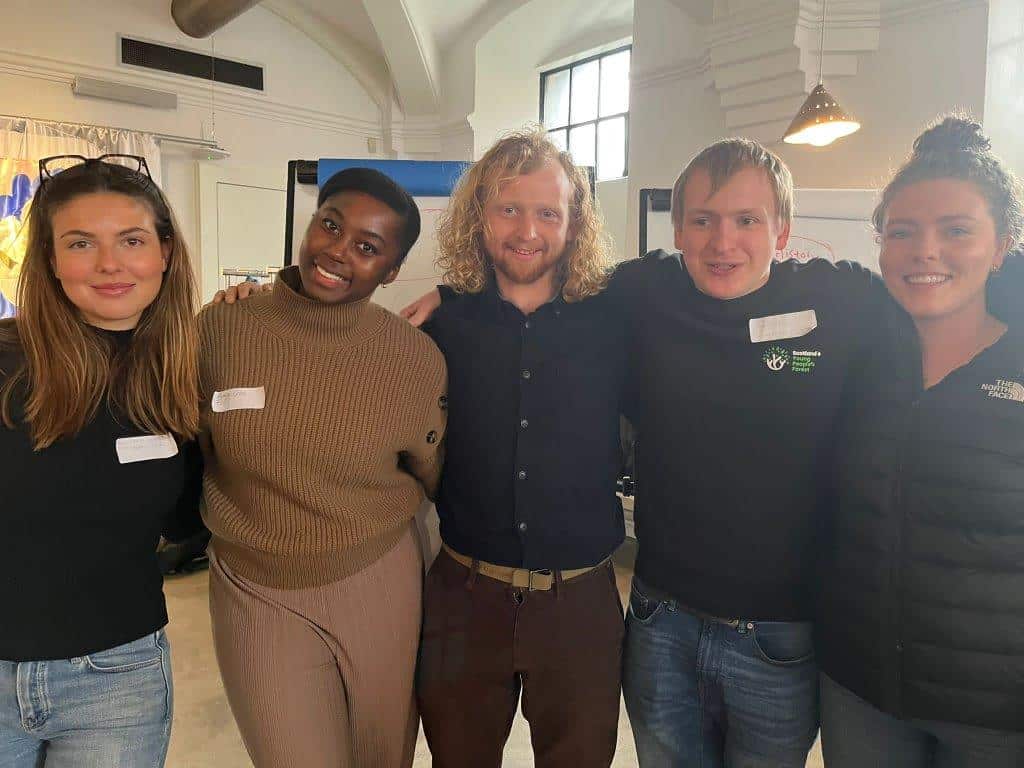 Last month, as part of a UK/Sweden youth-to-youth knowledge exchange programme, two young leaders from Raasay travelled to Stockholm to discuss and represent the Young Islanders Network and the Carbon Neutral Islands project at an international Climate Leaders workshop.
Successfully selected from a pool of highly qualified and interesting young applicants, delegates Tom Lusink and Rosie Macleod Macinnes are serving as Local Community Development Officers, Raasay, for Community Energy Scotland (CES) who are leading the Carbon Neutral Islands work on the island.
Reflecting on the event and his work, Tom writes:
Last year, if you had told me that I'd be attending a workshop in Sweden hosted by the British embassy, I would have thought you were pulling my leg. The journey has been fast-paced, and over the last six months, the scope of my work has expanded beyond what I could have ever imagined. I'm excited to share my experiences representing the Carbon Neutral Islands (CNI) project in Stockholm with you. 

Raasay, the island which is home for me now, was fortunate enough to be selected as one of six islands (Raasay, Hoy, Cumbrae, Yell, Barra and Islay) to become carbon neutral by 2040, 5 years ahead of the rest of Scotland. This government-run scheme aims for these islands to learn best practices and share them with other islands and communities on their journey to becoming net-zero. 

 At the core of this project is community empowerment. Rosie Macleod Macinnes and I were lucky enough to be hired as Local Community Development Officers, working through Raasay Development Trust, the local anchor organisation. We collaborate closely with a steering group, a representative board of community members, to address the community's needs within tackling climate change.  

Climate Leaders Workshop attendees

 Since starting our posts last October, we have been working to understand Raasay's story, in terms of climate and beyond that as well. We conducted a household survey, going door-to-door and collecting responses from nearly all full-time households. This data, combined with carbon audits of the island, is helping us create a community climate action plan.  

 To ensure the community's voice is heard, we've hosted numerous community engagement events, often sweetened by cake. Like many remote places, Raasay experiences high levels of fuel poverty and, being an island off another island, can be a challenging place to live. Services are harder to access and conditions can be harsh. Despite this, we choose to call this beautiful place home. 

 In the midst of all this, we learned about a workshop in Sweden focused on the voices of young people in climate change. We were thrilled at the prospect of attending and thought it a chance to represent rural perspectives. 

 Although the workshop's timing wasn't ideal – right after our community climate action plan deadline and just before our climate festival – we couldn't pass up the opportunity. Our workshop focused on intersectionality, a relevant topic, as living in a small tight knit community everybody should be included. 

Delegates Tom Lusink and Rosie Macleod Macinnes engaged in a workshop discussion

 We were joined by Finlay from Scotland and Fleur and Amina from Sweden as co-chairs of our workshop. The day consisted of three workshops, with around 30 participants, made up of various Swedish and Scottish youth climate groups. Cabinet Secretary, Màiri McAllan, Sweden's Ambassador for the Ocean, Anna Lindstedt and the deputy British Ambassador also attended.  

 Our workshop explored intersectionality at local, regional, and global levels. It went smoothly, and we had an engaging debate with the whole room at the end. After a quick "fika" (a break for coffee and a bite to eat), we attended the next workshop. Afterwards we got a chance to feedback some of our main points to the ministers, one of the main things we shared was the importance to give communities ownership to help them tackle the issues they face. 

 At the end of the day, we had the chance to network and exchange details with other attendees. I even arranged a meeting with the Swedish youth branch of the Nature Conservation for the following day. In conclusion, representing the CNI project in Stockholm was an unforgettable experience. I'm grateful for the opportunity to share our work on Raasay and hear other people's perspectives.
If you have anything to share on the theme of Climate Change and the Islands or you are interested in being involved with the Young Islanders Network and the Carbon Neutral Islands project, please contact us: Naomi.macdonald@youthscotland.org.uk